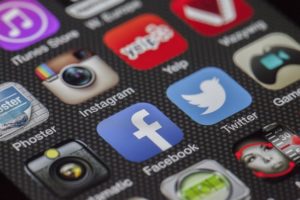 Did you know that the average internet user has more than 5 social media accounts?1 The passive candidate is typically not online looking on Indeed and LinkedIn for a job, but they are updating their Facebook status. Social media sites are a focus for online interaction, so why not use them to find your next superstar candidate?
People are using social media to be impressed, not only by others' lives but by the way companies present their culture.
59% of employees say the social media presence of a company was one of the reasons they chose that company.2
Social media accounts act as unofficial portfolios for individuals and companies. It is important for companies seeking to expand and people job hunting to create an overall brand with a distinct voice.
First, cut through the noise and find the right people by staying active. Know your source and be on it often. This allows you to know what hashtags are working and what hot topics are streaming so you can gear your postings to what's popular. Find niche networks based on the position you are looking to fill. For example, if you are trying to find a developer, post and stay active where those types of people are sharing their knowledge; i.e. GitHub or StackOverflow.
You will also want to make sure the job post is not only on your company page but that your employees are posting it on their own accounts. This works best on LinkedIn because it is the "World's Largest Professional Network." Each employee that shares the post should relate it to themselves, personalizing it to make it more attractive to the passive candidate.
The benefits to using social media as a recruiting tool:
Reach the elusive passive candidate. Social media is the best way to find and connect with passive candidates. LinkedIn is essentially a directory of professionals organized by industry, company, job title and a number of other categories.
See talent and passion firsthand. Many people use social media to make it known they love their career. You can find passionate people and learn what amazing work they've done and creative ideas they have.
Get resume details without a resume. On LinkedIn, and to some extent Facebook, you can view a person's complete work and education history. You'll know if a candidate has the experience the role calls for before you reach out to them.
Find a great culture fit. Social media allows you to learn what a person's hobbies are and even allude to what sort of personality they have. You can find candidates who are skilled and will also be a good fit for your workplace.
Filter out bad candidates. Some people behave poorly on social media. You can determine if a potential candidate has a bad attitude by seeing what they share online.
Save money. Unless you promote job openings through paid campaigns, social media recruiting is completely free.3
These tips will help you to navigate the social media world to find candidates that better align with the open position and your company.
If you invest the time you could end up with the next top performer of your company.
1 - GlobalWedIndex - https://blog.globalwebindex.com/chart-of-the-day/internet-users-have-average-of-5-54-social-media-accounts/
2 - GlobalWedIndex - https://www.globalwebindex.com/
3 - https://recruiterbox.com/business-guides/recruiting-and-hiring/use-social-media-recruit-hire