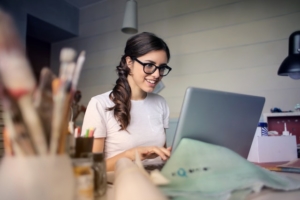 In a competitive job market, it is essential to know how and where to market your personal brand. Hundreds of applicants are applying to jobs on a weekly basis, making it is easy to get lost in the mix. We've found the best ways to give you a unique edge when applying for jobs and how to have the jobs come to you using LinkedIn.
Start with your resume. The goal of a resume is to get an interview.
A lot of resumes read as a long list of job responsibilities but an employer wants to know how well you perform those responsibilities.
Include statistics and data that highlight how you have specifically impacted your position, teams and overall organization. Your resume is part of your personal brand -- use it to tell a story about why you're the top candidate for the job.
Customization is key.
When proactively applying to job openings, read the job description in detail. What words are repeated throughout the job description? What certain skills are emphasized? Use those keywords and skills when customizing your resume. Resumes should showcase the most relevant work experience related to the role and responsibilities listed in the job description. That means you may have to tweak your resume each time you apply to a new job. Many employers use an ATS, Applicant Tracking System, which determines if a candidate is qualified for the position. The ATS searches for keywords associated with the position. The more keywords listed in your resume, the better chance you have of beating the system and moving on to an interview.
Why LinkedIn? LinkedIn is a common go-to when sourcing for candidates.
Chances are if you aren't on LinkedIn, no one will be reaching out to you with a new opportunity.
There are several ways to optimize your profile to attract recruiters and employers. If you are just getting started, mirror your profile to your customized resume. Employers don't like to see inconsistencies when it comes to timelines and milestones between your LinkedIn profile and resume. Keep that in mind and make sure both marketing platforms create a consistent personal brand.
Let recruiters know where you stand.
Turn on the "let recruiters know you're open"1 option under Career Interests. Although LinkedIn cannot guarantee complete privacy, they take steps to keep this private to your current employer. This information should only be visible to individuals with a Recruiter account. Identify your specific career interests to attract recruiters focused on your industry.
Help recruiters find you.
Now that you've indicated you're open, you'll need to strengthen your profile so recruiters can find you. Similar to an ATS, recruiters source candidates through keyword search strings. The most popular searches include job titles, keywords, skills, industry and location. Think of your ideal position and include as many keywords associated with that job in your LinkedIn profile. Also, choose a profile picture that is current and professional. In making sure your profile is complete , you help recruiters to bring your dream job to you.
Grow your connections.
You will need to expand your network to increase visibility to recruiters. Send a connection request to your friends, family and professional networks. More connections will increase your profile views and lead to recruiter reach outs. If you have a well-developed LinkedIn network, consider writing appropriate contacts a recommendation or endorse one of their skill sets. They will appreciate the gesture and this gives you an opportunity to ask for one in return. Validation from individuals in your network goes a long way and will make your profile standout among the rest.
If you can focus on customization of your resume and invest time in your LinkedIn profile, your job search will be off to a great start. Employers and recruiters will scan LinkedIn for your profile, even if you applied directly to a job on their company website.
Take control of your brand by curating your profile with a consistent message of your experience, skills, achievements and uniqueness.
Once your resume and profile are top-notch, check out how to prepare for an interview to stay ahead of the game.