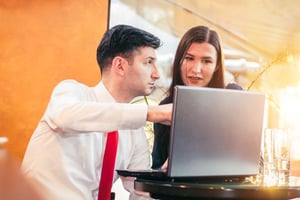 New research from UK-based recruitment firm, Total Jobs, has revealed that 2 in 3 workers have changed jobs at some point in their career due to a lack of learning and development opportunities. So, with training and development so important to the employees of today, how do you measure the ROI of training your staff?
68% of employees have changed jobs because of a lack of learning and development opportunities.
In order to calculate monetary ROI of training and development you need to identify if the benefits of your planned training will ultimately outweigh the costs and this can be done using a very simple calculation:
((Monetary benefit – Monetary Cost)/Monetary Costs) x 100 = ROI (%)
First lets take a look at the monetary costs which come in 3 forms:
Planning costs
This covers all the prework of sourcing and preparing for a specific training program, e.g. hours dedicated to evaluating staffing needs, researching providers, pre-work required to complete the course or even designing an internal course from scratch. Be thorough.
Delivery costs
This can cover all costs experienced by the company at the time of delivery, e.g. room hires, refreshments, consultant hire, hourly rate of all staff participating in the session, resources required, travel for each individual.
Evaluation costs
This includes any time or resources after the training program used to evaluate the effectiveness of the training, e.g. surveys, focus group time, post-work time dedicated to effective implementation of training.
9 in 10 employees want their employer to offer more training courses to develop new skills.
Once you have a clear idea of the costs involved in training you then need to focus on the benefits of completing specific training from a monetary standpoint. This can be where you may find some challenges as it can be difficult to put a monetary value on certain benefits for example, how do you put a monetary value on a middle manager being a better leader after participating in leadership training? Try as best you can to approximate potential impact, but be conservative if you need to.
Direct benefits
In manufacturing, construction and other production industries there can be some thought given to monetary benefits for example increase production numbers, increased quality, time dedicated to projects, reduced errors etc. Try listing these out in another column.
Indirect benefit
This is the more challenging piece, but can be achieved on approximations. For example is you were to put on safety training how much would you expect your safety incidents to reduce? 50%? If so, what costs incur due to safety claims? Insurance? Workers compensation? This reduction can then be used as an indirect benefit. What other ones can you think of?
2 in 3 employees believe training is more important today than it was two years ago.
Now that you are familiar with the costs and benefits, let's work an example of the ROI of training.
Planning Costs

30 minutes of leadership's time to identify safety training need

$250

4 hours administrative time @ $25 p/h to research and confirm potential training

$100

Initial survey required as prework for course for 10 participant taking 30 minutes to complete @ $50 p/h

$250

Subtotal =
$750


Delivery Costs

6 hour training course price

$5,000

Refreshments and room hire for the day

$1,000

Staff time @ $75 p/h per staff member (10)

$4,500

Subtotal =
$10,500


Evaluation Costs

10 participants taking 15 minutes to complete evaluation survey @ $50 p/h

$125

Subtotal =

$125

Direct benefits

$0

Subtotal =

$0

Indirect benefits

Subtotal reduced workers compensation claims by one per year
$40,000
Engaged workforce reducing turnover
$10,000

Subtotal =

$50,000
Monetary benefit – Monetary Cost)/Monetary Costs) x 100 = ROI (%)
(($50,000 - $11,375)/$11,375 x 100 = 340%
This means that you could potentially see a return of $3.40 for every $1 dedicated to the training...let's do it!
So, while some of these numbers may be hypotheticals and approximations, you will gain a balanced understanding of whether a ROI could be seen from specific training and can be another tool in your leadership toolbox to use when you ask yourself the question: how do I measure the ROI of training?
References